Ever wanted to change your back posts to remove the date or even better put some other text like "…some time ago…" in it's place?.
Now you can with the date_exclusion_seo plugin. You can remove dates from the front page, the tag pages, the cat page and all, aged, or explicit posts. All have the option of creating different text in its place.
The date_exclusion_seo plugin is based on Daniel Scocco's original version of Date Exclusion but modified to work on the latest 2.7.1 wordpress version.
Why Date Exclusion from Posts?
Most of my traffic from search engines is through old posts. This is especially true if like us you have been blogging for a long time, and have lots and lots of content. I wanted to remove the date from my old posts only, but I could not find a plugin that worked, so I modified the original plugin.
There has been plenty of discussion on the matter from various blogging sites including Daily Blog Tips and Problogger.
14. Consider Removing Dates on Old Posts
This one could be a little controversial but I find that when old posts are not dated that it doesn't create a 'oh this is old' type reaction in your readers.
I've seen this numerous times here on ProBlogger where posts written back in 2005 have attracted comments like 'this is old' or 'out of date tips' – even when the content has been of a 'timeless' or evergreen nature.
Personally I think that you should consider the type of blog you have before doing this. For me it works on DPS where I've never had dates on posts – but not here at ProBlogger where I have a topic that is more time specific (I'll write more on this topic in coming days).
Steve Pavlina's success is undoubtedly related to his thoughtful, timeless content. In his own words:
In terms of traffic building, timeless content connects with people at a deeper level than time-bound content. The latter is meant to be forgotten, while the former is meant to be remembered. We forget yesterday's news, but we remember those things that have meaning to us. So I strive to write about meanings instead of happenings.
I don't really have a concrete reason why I removed the time stamp, except that it doesn't make the blog posts look dated. However, depending on the overall site and its content structure, dates can be important and useful.
Going without dates also affects your marketing potential. For instance, it might make it easier to promote material on social voting/bookmarking websites. For example, I can send visitors to an article I wrote 2 months ago and it'll still appear to be fresh and new, particularly so if the content isn't about current events/news. I also think this affects your ability to receive citation links and comments.
How to Use the Plugin
Download the plugin above and use the WordPress Plugin to install it.
Activate the Plugin
Goto Settings > Date Exclusion SEO
Modify the options below and save.
Remove Dates From Posts – removes date from all single post pages regardless
Remove Dates from Tag Pages – removes date from tag pages
Remove Dates from Category Pages – removes date from category pages
Remove Dates from Front Page – removes date from front page

Number of Days to Expiry – number of days to expire for single post page
turn off specific posts by comma delimited list of post ids
(Optional) add alternative text to replace date functions
(Optional) Turn off each date function depending on theme
Screen Shot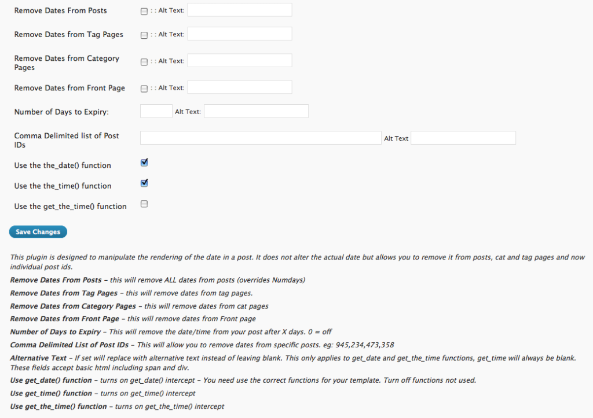 Version History
Version 1.1
Fixed conflict with core WordPress 2.7, added get_the_time for certain themes
Version 1.2
Ability to off dates on Category and Tag Pages,Option to turn off dates on Front Page,

Added configuration options page

Version 1.3
Fixed really stupid beginner errors with function names
Version 1.4
Lots of changes, Now Alternative Text for all date functions, you can select specific post ids.
Version 1.5
Small Bug Fixes.
Download Latest Version 1.5
Things to Do for Version 1.6
Better Control over specific themes
Questions
email: support@bluecowhosting.com