It can be really tough sometimes coming up with content for your blog, but sometimes it isn't. If you are stuck, then here is a post about lists. However if you are like me, sometimes you just have something to say and you want to say it. That being said, there are some tips to making posts compelling, even if it is about a stitch that you have just learn't.
I am a big one for images in your post. I invariably have an image at the start to draw the reader into the post. Coupled with the headline, it should be enough to start the reader down the path. My favorite image repository is Flickr. Flickr is super blog friendly. They explictly support Creative Commons License which means you don't have to look over your shoulder for pouncing lawyers to make your blog look really good.
They have a search function that allows you to filter for creative commons content.  To find it, enter a search in the search box, then click advanced search. You will see this near the bottom of the page:

This means that you are free to use the photo in return for attributing the owner of the content. Here is an example:
You will notice I use the caption element when using pictures to place the owner attribution, you can also place the attribution at the bottom of your post if you prefer.
You will see on the sizes page the CC some rights reserved badge. This means that it is available for non commercial use such as blogging. You cannot however use it on commercial websites or stick it inside an ebook and sell it. That is what istockphoto and dreamstime is for.
You should also look for the "Blog This" option: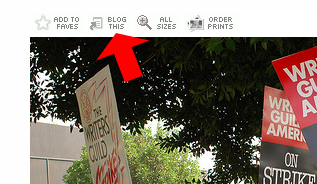 The owner has the ability to turnoff the auto blogging feature which usually means they don't want to have people blog their photo. This contradicts the Creative Commons 2.5 label somewhat, but I am inclined to respect their wishes and not blog any picture that has the blog feature turned off. Besides there is so much content on flickr, you can easily find another photo that is Creative commons AND autoblogging.
Note also that Flickr is not an image dump repository, it is a photography sharing site. I don't place marked up content at flickr. The right place for that is either your own site, or Photobucket. If you look closely at the two marked up photos above you will see they are at photobucket.
Flickr and Deep Linking
My understanding is that Flickr implictly allows deep linking to their site with the correct attribution:
Do link back to Flickr when you post your Flickr content elsewhere.
The Flickr service makes it possible to post content hosted on Flickr to outside web sites. However, pages on other web sites that display content hosted on flickr.com must provide a link from each photo or video back to its page on Flickr.
It also means that if you download and host content elsewhere that was originated from Flickr, then you must still link back to flickr to the correct photo or photoset.
I personally deep link to Flickr to make it clear where the content comes from and for convenience sake.
Flickr also allows you to create Photoblogs. This is where posts are formated around flickr content. Here is an example of a simple photoblog. (This is a photoblog of photographers and cameras). Simple but effective.
To set this up to auto blog, simply goto your Flickr Account > Extending Flickr > Your Blogs > Edit then follow the instructions.
Happy flickring…..
Related Posts: